For plants to achieve full potential for yield, nutrients need to be available to the plant in the right place.  Placement changes with development and changes in plant genetics, placement technologies, tillage practices, plant spacing, crop rotation or intercropping, weather variability, as well as other factors.  Considerations such as where plant roots are growing, soil chemical reactions, goals of tillage system, and how to manage spatial variability should all be acknowledged.
Root Architecture
The make-up of roots, known as root architecture, varies greatly across species, changing the way roots interact with soil conditions.  With different root growth patterns, access to nutrients in the soil differs.  Even within a species, there is a different access to nutrients based on growth stage.
Corn roots: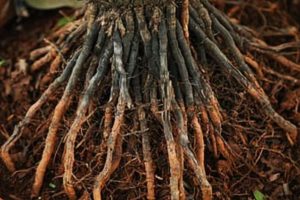 Photo credit:  https://ipm.missouri.edu/MPG/2020/2/rootProtectants/
Soybean Roots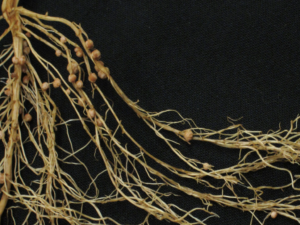 Photo credit:  http://blog.pnas.org/2019/08/nitrogen-fixing-bacteria-talk-to-soybean-roots-via-tiny-rnas-suggesting-new-avenue-to-improve-yields/
The ability for a plant to change its architecture during a growing season is known as "root plasticity".  This is due to changes in growth as well as reaction to local environment.  Soil moisture content, soil temperature, nutrient concentration, and soil bulk density can all impact root architecture.
When roots encounter zones in the soil with concentration of either N or P, root proliferation occurs.  This changes the distribution of roots through the soil with the greatest growth in roots occurring in the soil area with higher concentration.  Research shows nutrient placement impacts more than the location of the nutrients.  It also impacts how much of the root system will be growing in those soil areas.
Root Proliferation

Image credit:  https://www.researchgate.net/figure/Effect-of-a-localized-supply-of-phosphate-nitrate-ammonium-and-potassium-on-root-form_fig2_307729442
Root Nutrient Uptake
Plant roots are primarily responsible for nutrient absorption for the plant's health and growth.  Nutrients move from the soil through the cell wall in the roots, to be utilized by the plant.
Root system development is crucial to overall plant development.  A well-developed root system increases the rate at which nutrients can be absorbed as well as the overall quantity of nutrients available to the plant.
Nutrient uptake rates change as soil conditions change and as the plant matures.  For example, P uptake rates are much higher for corn and soybean plants when they are younger.  As uptake rates decrease, root surface area needs to increase to offset the decrease.  A greater surface area in a healthy root system provides optimal health for the plant.
Nutrient Placement Practices
Nutrients are primarily applied on or in the soil in one of two ways:  broadcasting or banding.  Broadcasting is the application of nutrients in a nearly uniform pattern on the soil surface.  When broadcasting, the goal is to have an even spacing between particles of nutrients on the soil surface, providing even coverage.
Banding is the application of nutrients either at or below the surface in specific volumes and widths.  The bands can be at different widths or positions depending upon row placement. Options for banding include:
"starter" bands placed near seed at the time of planting
"pop-up" bands placed in direct contact with the seed trench
"side-band" applications placed to the side, below, or to the side and below the seed.
For information on how to test for N in fields with banded application, refer to Dr. John Lory's publication Preplant Nitrogen Test for Adjusting Corn Nitrogen Recommendations https://extension.missouri.edu/publications/g9177 .
Nutrients applied in the right place can make a major impact to the crop yield and profitability.  Positioning nutrients in the right place means strategic application so the plant has optimal access to them.  This allows the plant to develop properly and achieve its full potential yield, depending upon environmental conditions.
Source: 4R Plant Nutrition – A Manual for Improving the Management of Plant Nutrition (North American Version). International Plant Nutrition Institute. 2016.