There is something about living on the land, loving the land, and depending on it for your livelihood.  There is a unique relationship between nature and the family farm. The soil within the farm is more like family than contractual.  Because of this, the relationship between farmer and soil is cultivated like the relationship between family members.  Much care and consideration is put into helping the soil become a productive member of the family.
Farmers have firsthand experience of how the devastation of drought, flood, wind, and the lack of care negatively impacts the soil they depend upon.  The dependency of a farmer on the soil is not new, making farmers the first conversationalists.
Farmers build up the soil, reduce soil loss, and feed and nourish it.  In return, the soil provides a crop for the farmer, increases in productivity, and feeds and nourishes its family.
Conventional wisdom of the 1930s led farmers to believe soil could be improved through cultivation.  This over-cultivation led to the Dust Bowl, a series of severe dust storms greatly damaging the Midwest, removing much of the top soil and productivity.
The planting equipment of the time was unable to do its job without extreme cultivation to create a powdery seedbed.  The steel bottom plow and disc made for great strides in short-term production ability, but it was at the cost of long-term soil health.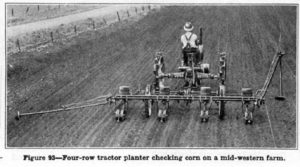 Image source:  Wessels Living History Farm.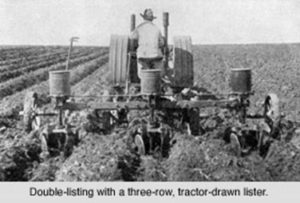 Image source:  Wessels Living History Farm.
Facing some of the worst circumstances in history, farmers fought tooth and nail to save their family farms and livelihoods.  The tenacity and inventive spirit of farmers during the Great Depression reinforced their desire to remain and restore.  Money was set aside in an almost nonexistent economy to develop new agricultural technologies and establish a partnership between farmers and government for soil conservation.
This partnership developed the Soil Conservation Service, now the Natural Resources Conservation Service (NRCS), and Soil and Water Conservation Districts, which exist in nearly every county in the United States.  These programs empowered local district leaders to conduct demonstrations, carry out research, directing prevention and control measures, giving assistance to landowners, and supporting wise land use.  A video with more information about the creation of these programs can be found at https://www.youtube.com/watch?v=LU-PdpT-2v4.
In recent decades, farmers have learned about the importance of ecosystems and how their degradation in the 1930s had a lasting impact.  The building of soil organic matter and carbon is a much longer and tedious task than plowing it up.  No-till and strip-till practices have been building in popularity since the 1980s and cover crop usage has increased dramatically in recent years.
Farmers have learned the key to success is putting new life into old soil.  Soil is a living system, impacting the bottom line of a farming operation more than any cash crop.  Just like the human body depends on proper care for long-term life and health, maintaining health is vital to the long-term productivity of soil.
Today's equipment is capable of placing seed, fertilizer, and insecticide in the soil simultaneously without or minimally tilling the soil.  Utilizing modern farm equipment and practices can lead to a reduction in labor, fuel, and soil compaction while increasing organic matter and organic life in the soil, thus preventing erosion and improving water infiltration.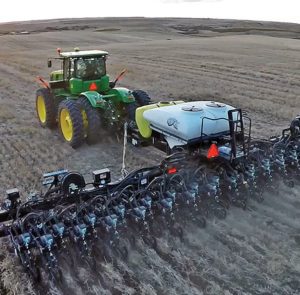 Image source:  Solid Rock Ag Solutions. 
In his October 3, 1988 message to Congress transmitting the report of the Council on Environmental Quality, President Ronald Reagan said, "No other nation in the world has done more to preserve and improve its natural environment. We are a people who take pride in America, and in the environmental quality of the communities we helped to build, and who will continue to build our future as we did our past, in freedom."
That statement was true in 1988, is true today, and its truth will continue into the future as farmers strive every day to make tomorrow better than today.
Sources:
Successful Farming – https://www.agriculture.com/crops/conservation/conservation-practices-keep-land-sustainable
Wessels Living History Farm – https://livinghistoryfarm.org/farminginthe30s/crops-3/
National Association of Conservation Districts video "Past, Present and Future of Conservation Districts". https://www.youtube.com/watch?v=LU-PdpT-2v4
Reagan Library – https://www.reaganlibrary.gov/archives/speech/message-congress-transmitting-report-council-environmental-quality