By: Andrea Rice, Director of Research, Education, and Outreach
Time in the tractor used to be the mark of success for farming operations, but with the advancement of technology and an increased partnership with ag retailers, success starts from time spent planning.  It may seem counterintuitive, but time in the office is now the key to success.
Rich Archer, Agronomy Marketing Manager of Prarieland FS, Inc., has spent a great deal of his time equipping agronomists with the tools and knowledge needed to best serve customers.  The range of services available allows for agronomists to meet customers where they are and assist them as a nutrient management plan is developed.
"I can't say we have every acre doing full a nutrient assessment and planning," says Archer. "Sometimes the best place to start is by calculating nutrient removal numbers from harvest data and using that to assist producers in developing a nutrient plan for the upcoming season."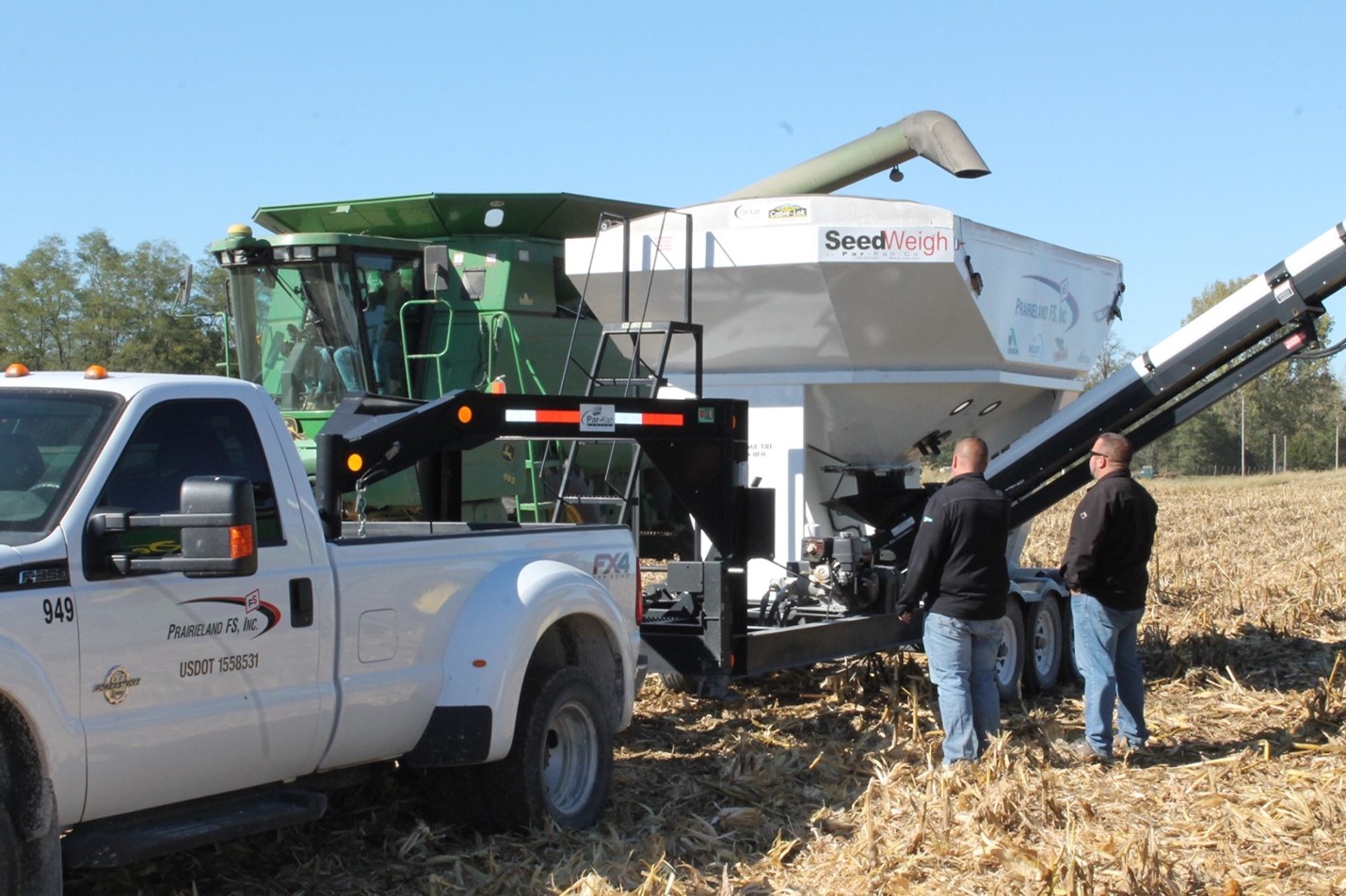 Prarieland FS employees scout crops to make sure customers are on the path to achieve objectives for the current cropping season.  Photo credit:  Prarieland FS, Inc.
Working with producers on fertilizer recommendations has an even bigger impact for financial gain this cropping season with input costs being of major concern.  Producers can see a bigger impact with small changes in production practices this year and the staff at Prarieland FS are happy to assist them in taking the next step in developing a nutrient management plan.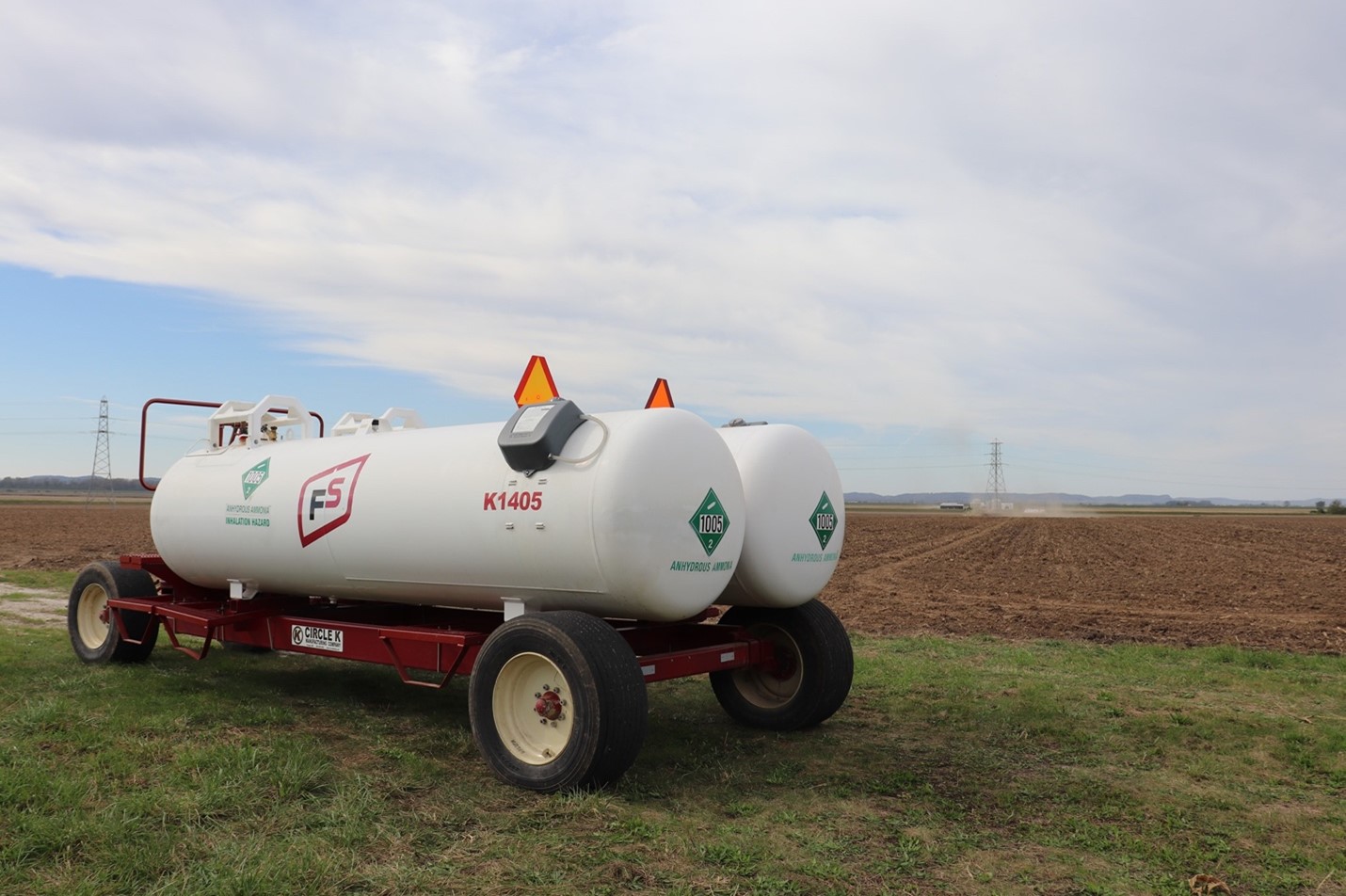 Prarieland FS works with customers in developing a nutrient management plan, which often includes a prescribed amount of anhydrous ammonia on corn acres. Photo credit:  Prarieland FS, Inc.
Agronomists and other advisers at Prarieland FS have also been working with producers who are interested in developing a strip trial on their own farm.  This could be to see if changes in rate of nitrogen application have a major impact on yield, or how other nutrients respond to in-field changes.  Data collected from these on-farm trials can help producers see the impact of nutrient management through cost benefit analysis of the practices implanted and changes in yield.  Prarieland FS also has best management practices (BMPs) in place to ensure increased performance and decreased risk.  "The BMPs put in place allow us to step up the service provided to our customers," says Archer.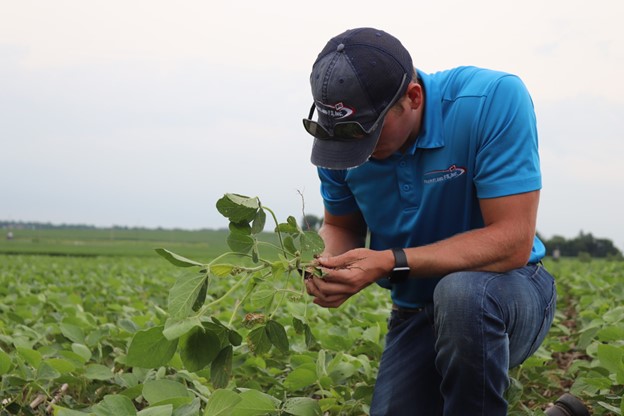 Prarieland FS intern, Andrew Phillips scouts soybeans to make sure customers are on the path to achieve objectives for the current cropping season.  Photo credit:  Prarieland FS, Inc.
FS Companies are "committed to ensuring the continued profitability for the company, their owners, and their customers, while acting to help the environment and greater good."  Prarieland FS has joined their regional supply cooperative, GROWMARK, in launching a new sustainability intiative.  This initiative reinforces the organization's commitment to "sustainability, recognizing practices to help everyone endure and prosper over time."
Every year brings new challenges to producers and their advisers.  A solid plan is a good foundation providing the flexibility necessary to meet these challenges while having a successful farming season.  Prairieland FS employees are ready to do more to move operations forward by asking their customers, "What's next?"
Missouri Fertilizer Control Board would like to thank Prarieland FS, Inc. for their partnership with the Show-Me Nutrient Stewardship program.  If you would like to become a producer partner or a retailer partner, please visit https://www.mofcb.com/nutrientstewardship/partner-with-smns/.