By: Andrea Rice, Director of Research, Education, and Outreach
Many people may have cows, sows, and plows come to mind when they think about farming, but the agriculture community is filled with early adopters of technology.  This certainly applies to the agriculture retailers in Missouri.
Soil sampling has been a common farming practice for decades.  However, recent advancements in technology allowing for precision application of nutrients have expanded the capabilities of how the data is collected and utilized.  What started with a handful of soil samples taken from an 80 acre field has expanded to 2.5 acre grid sampling or collecting data on zone soil types.
Seth Ricketts, President of Ricketts Farm Service, has invested in the equipment and employee training necessary to meet his customers' needs for precision nutrient recommendations and application.  With locations serving customers in the heart of Missouri's row crop territory in Chariton, Randolph, Shelby, Saline, Monroe, and Lafayette counties, Ricketts Farm Service has focused on relationships with the customers to provide trusted agronomic advice.
Ricketts Farm Service is proud to offer services providing precise data about the soil characteristics and nutrient content.  Utilizing technology such as Veris soil type mapping allows for either zone or grid sampling to show variability in fertility, drainage, and soil types.  In order manage each of these soils to their optimal ability, they need to be mapped.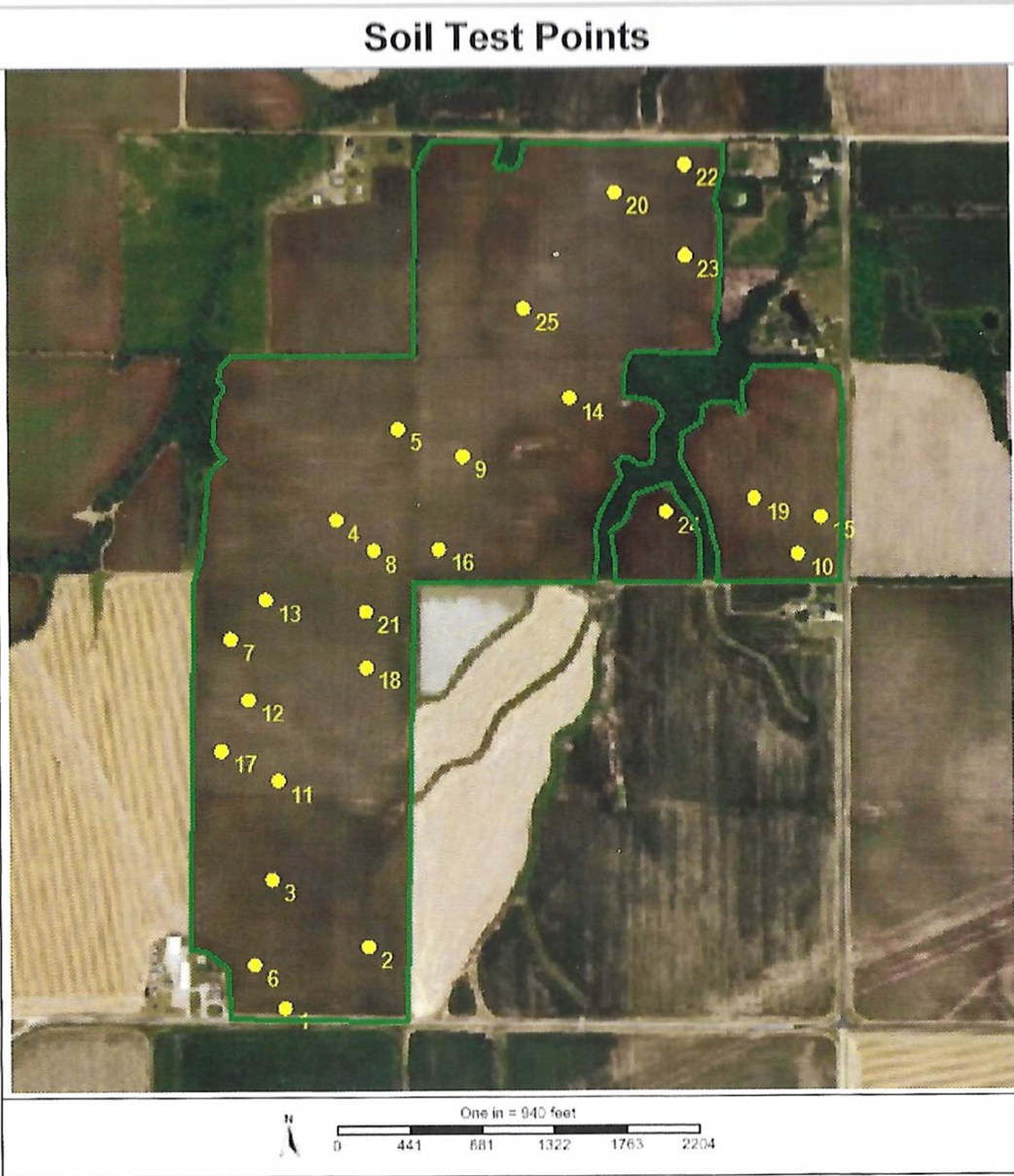 Sample map showing location of soil samples taken. Image credit:  Ricketts Farm Service.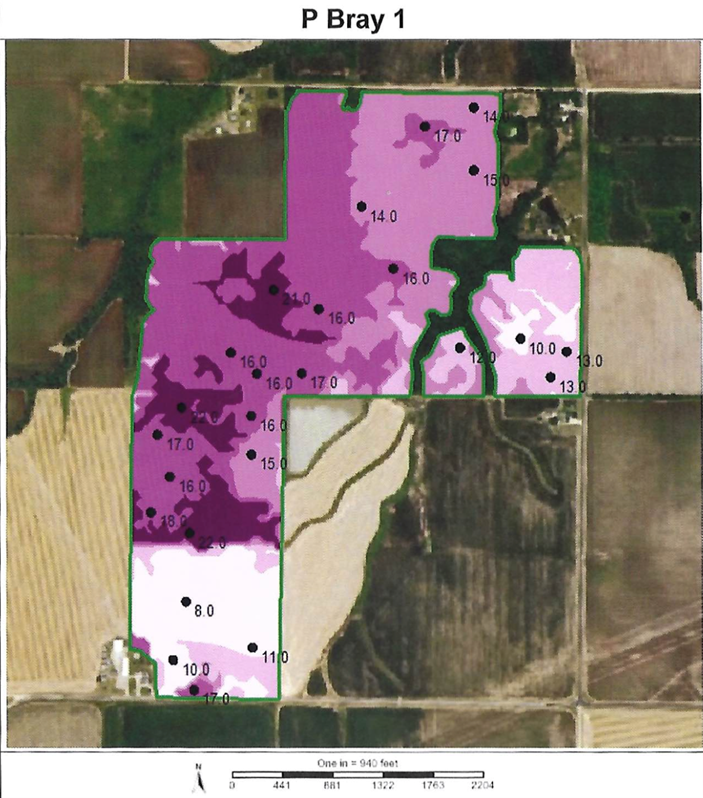 Sample results of phosphorus test.  Image credit:  Ricketts Farm Service.
This equipment gives advisers the ability to work with their producer-customers in developing a precise nutrient management plan based on the varying needs in each field.  Data from the Veris soil scanning sensors captures physical, biological, and chemical properties for each soil along with topography and pH.
Once the soil has been analyzed and a nutrient management plan is written, this information can be wirelessly uploaded to the applicators using a program such as Slingshot.  This program allows for the plan written specifically for the field where the applicator is located to be pulled up and assists the ag retailer in applying nutrients at variable rates instead of applying the same rate of nutrients on every acre as a blanket coverage.  "Before the wireless upload technology was available, we had to run a thumb drive around from the store to the field," said Ricketts.  "Utilizing the wireless upload has saved a great deal of time and fuel."
With the detailed soil data, application of lime, fertilizer, and other products can be done precisely without over application.  Ricketts Farm Service recommends their customers apply at least one third of their total nitrogen on a growing crop and has over half of their customers utilizing a two-pass nitrogen system.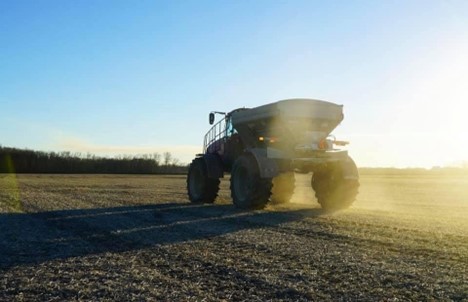 Modern technology allows for soil map data to be uploaded to fertilizer application equipment for precision application.  This ensures nutrients in the right place and at the right rate for plant availability.  Photo credit:  Ricketts Farm Service.
When asked how farmers can start adopting variable rate technology and precision application of nutrients in their own operations, Ricketts suggested starting small.  "If a farmer is concerned with the cost of a full nutrient plan based upon 2.5 acre grids, they could start with doing a 10 acre grid," he recommended.  Ricketts also suggested starting with accounting for crop removal of nutrients to ensure accurate recommendations and try side dressing nitrogen on a few acres of corn.
This is one example of how retailers and farmers are working together to conserve resources while maximizing yields. Fertilizer application is becoming more prescription based with specific recommendations for each soil type in each field.  Ricketts does not see an end in sight for people to move in the direction of prescribing specific nutrient needs.
Missouri Fertilizer Control Board would like to thank Ricketts Farm Service for their partnership with the Show-Me Nutrient Stewardship program.  The next Ag Retailer Focus will feature another SMNS partner, Prairieland FS.