By: Andrea Rice, Director of Research, Education, and Outreach
Fertilizer spreaders must be properly calibrated to apply granular fertilizers at the correct rates and deliver them to the right place.  Ag retailers are focused on providing their customers with optimal service for agronomic and economic reasons.  One way they provide optimal service is by completing a pan test on fertilizer spreaders.
Jared Harding, a District Precision Manager with MFA Incorporated, has a team of four specialists working with him to complete a pan test on every piece of equipment at each location annually.  This is no easy task with multiple applicators at their over 100 company-owned MFA Agri Services.  MFA has taken a strong stance on equipment maintenance to make sure their owner-customers have their fertilizers applied where the crops need them.
Testing the spread pattern by utilizing a pan test is typical in maintaining equipment and ensuring peak performance.  To complete a pan test, applicators and precision specialists work together to check for accurate placement of nutrients.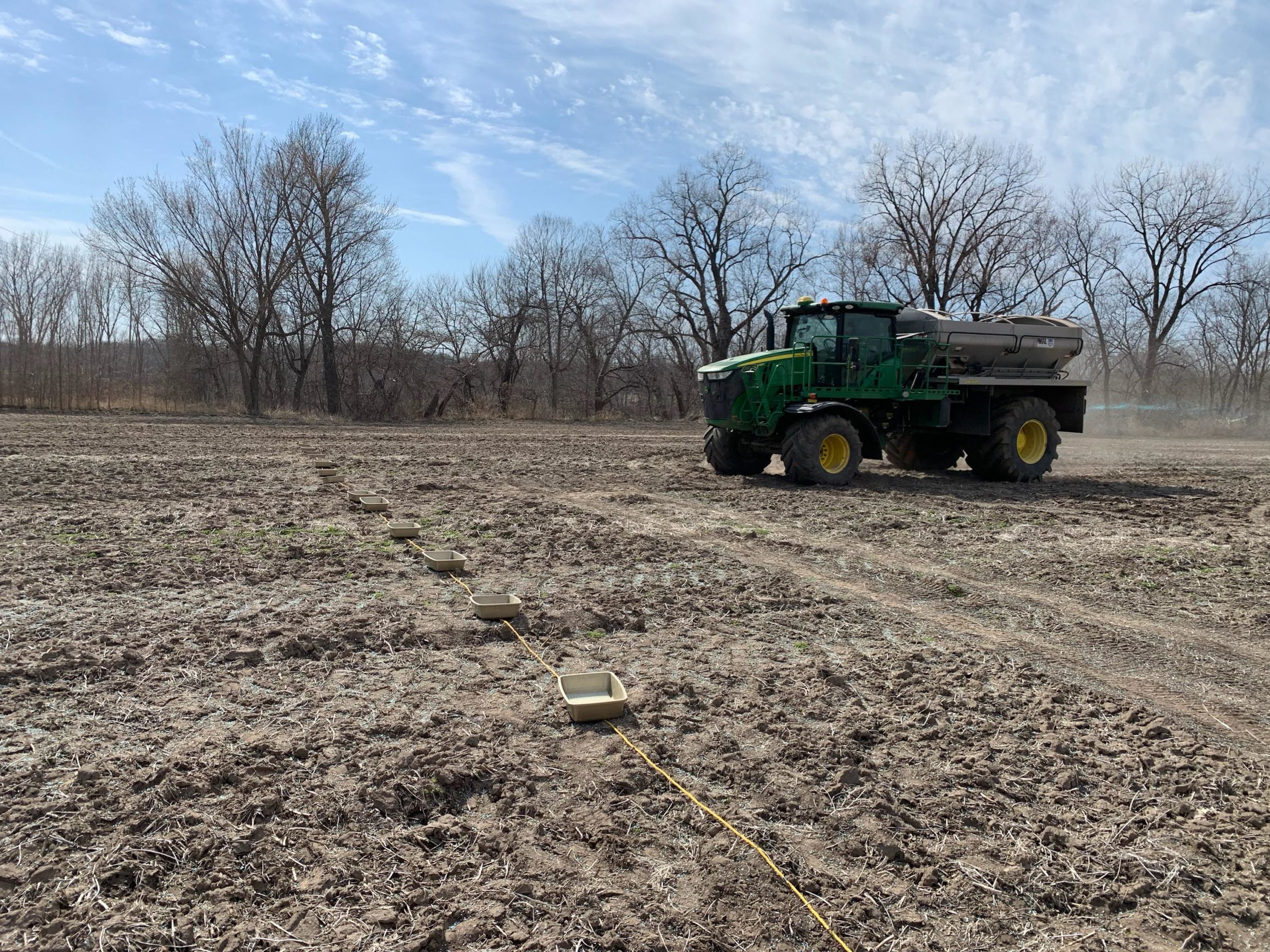 Pans are laid out based on the swath width with the center pan designated for the applicator to drive over.  If there was a test for 60 feet of application, a center pan would be laid out with five pans on each side, equally spaced 72 inches apart for a total of 11 pans.  Photo credit:  MFA Incorporated.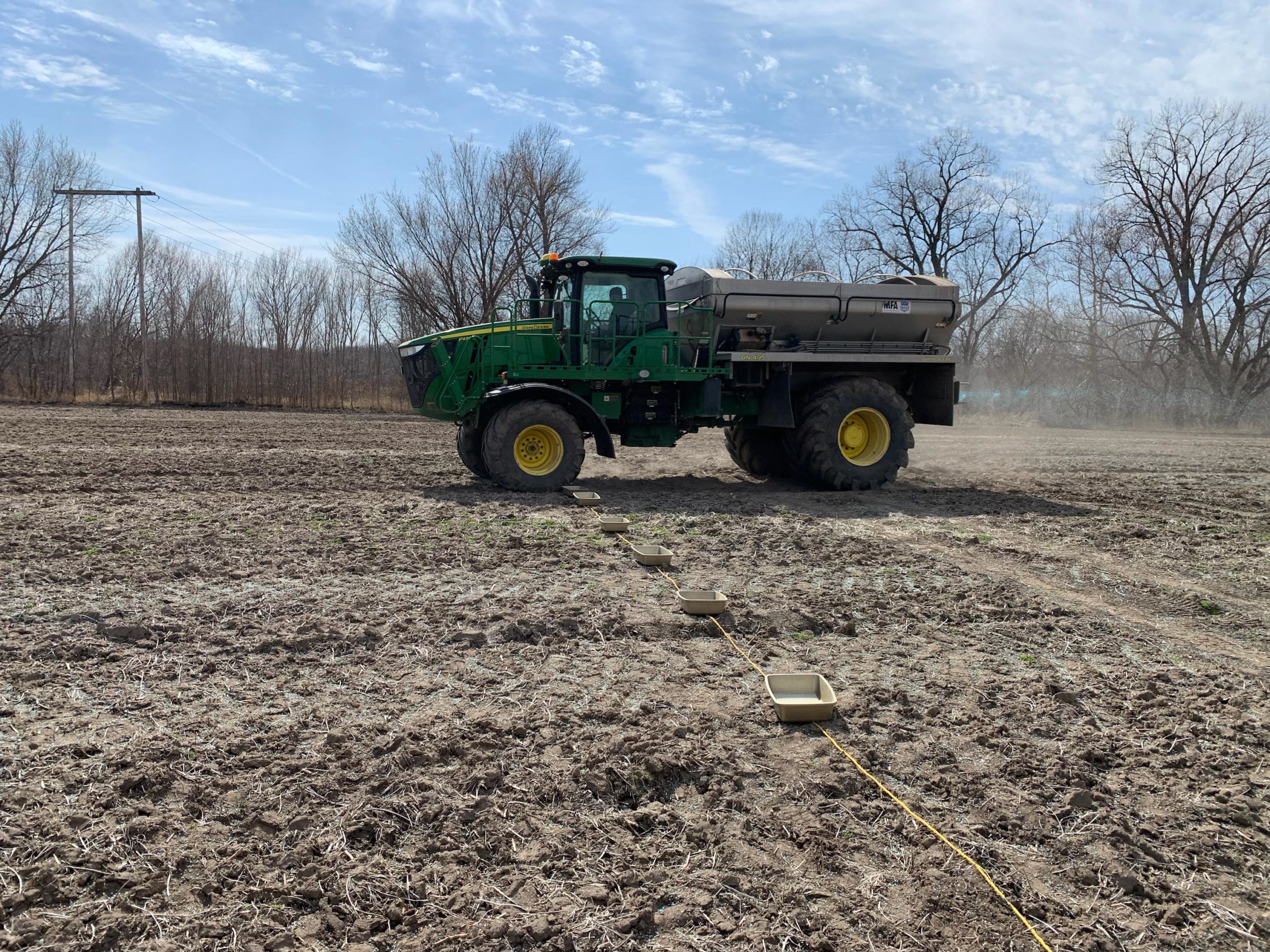 Once the pans are laid out, the applicator spreads fertilizer while driving over the center pan.  Photo credit:  MFA Incorporated.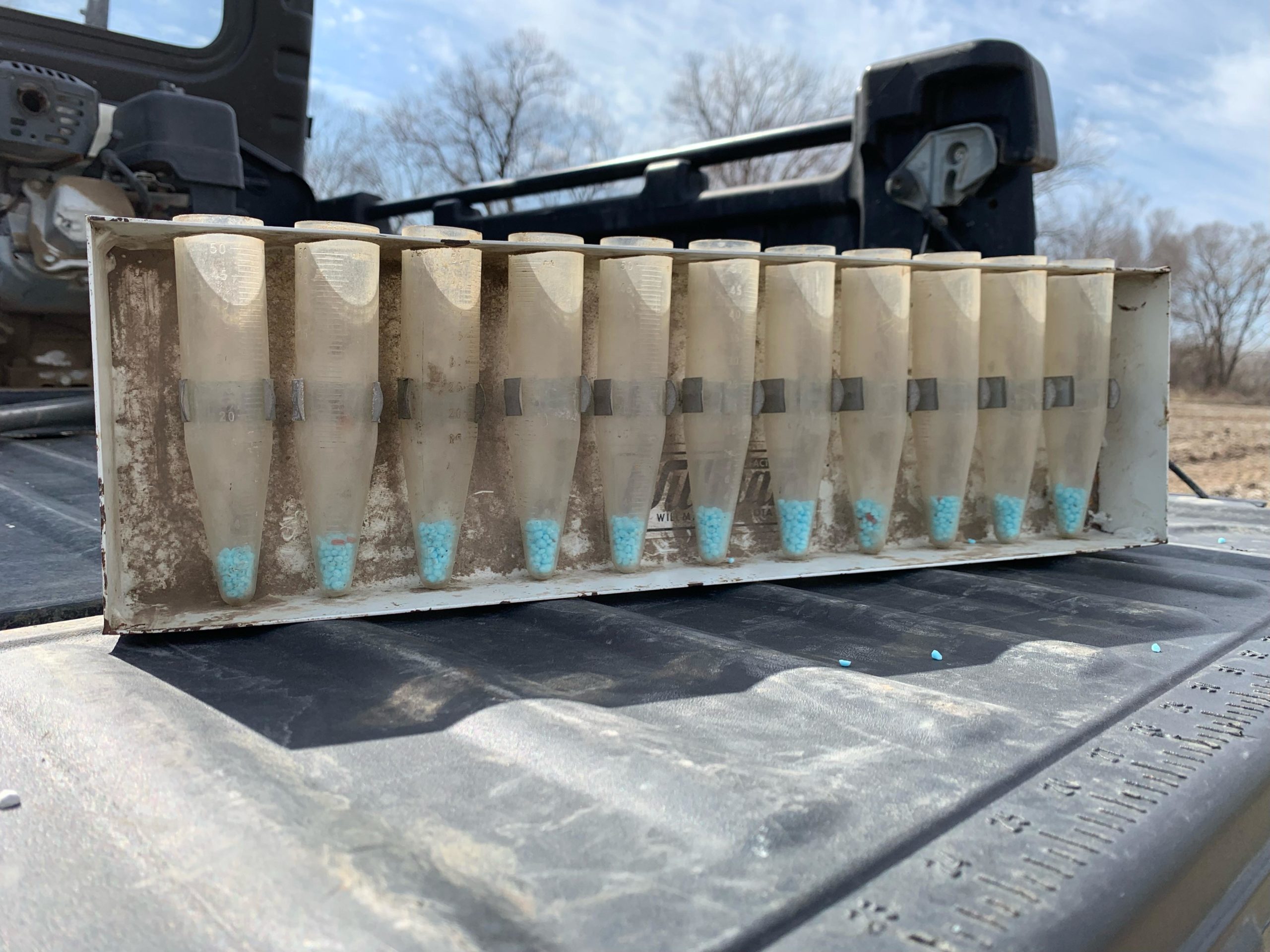 After fertilizer is applied over the pans, the pans are emptied with the material placed in the corresponding test tube.  Finally, the pattern is evaluated for accurate placement and any necessary adjustments are completed.  Photo credit:  MFA Incorporated.
On high clearance rigs, Jared and his team do pan test before side-dress season hits in mid-summer.  Application equipment is inspected as needed to be sure no sensors need replacing.  If there is a major malfunction during the spreading season, such as replacing a conveyor belt, precision managers and specialists retest equipment for the most efficient fertilizer placement as possible.
Another type of calibration, static calibration, is completed as necessary to ensure equipment accuracy.  MFA employees who operate the equipment play an important role in keeping an eye on everything to monitor equipment maintenance and performance.
"Keeping equipment maintained and performing optimally is better for retailers, producers, and also for the environment," expressed Harding.  "MFA does everything they can to get any problems fixed before the equipment arrives at a field location."
Missouri Fertilizer Control Board would like to thank MFA Incorporated for their partnership with the Show-Me Nutrient Stewardship program.  The next Ag Retailer Focus will feature another SMNS partner, Ricketts Farm Service.